RESIDENTS AGAINST CAR STACKER PARKING
MECHANICAL PARKING PROPOSED TO ENABLE MORE UNITS
A developer of a town house development at 15 Glendale Avenue, Templestowe wants to install car stacker parking in 8 single garages so that the space saved can be put towards extra units on the land. Stacker parking in new developments is only acceptable where normal parking cannot be achieved and is not environmentally friendly since they draw a lot of electricity at a time when Melbourne is already experiencing blackouts. This is in direct conflict with Manningham's own 2020 climate action plan.
The land is of a sufficient size to satisfactorily accommodate double garages. There is no demonstrated reason why parking cannot be met in a normal parking arrangement.  Mechanical parking installations such as car lifts, turntables and car stackers are usually permitted for residential and non residential development where: The topography or lot size does not allow a simpler parking arrangement, an existing building is being refurbished and there is no land available for additional parking OR refurbishment does not include extension of the building so as to increase site coverage or any other works to increase site coverage, all of which have the effect of reducing site area which could be used for conventional parking arrangements.
In the case of
non-residential development, the installations are for long-stay parking, Car stackers are inappropriate and commonly not permitted by other Councils.  Stackers are not considered acceptable parking options due to -A carbon footprint, which require a surge in electrical power and are therefore environmentally unacceptable.   climate 2020 action plan (2)
Advertised_Plans_PLN18_0304_15_Glendale_Avenue_Templestowe (3)
The Age reported that a car stacker had fallen more than a metre while a resident was parking a car. The car stacker which allows more than one car to be parked in the one space by raising one vehicle so another vehicles may be parked below it. Picture from Age newspaper below.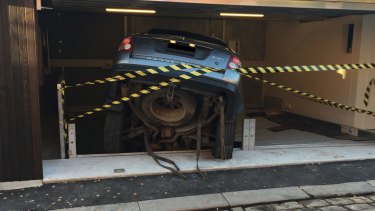 Councillors will have a say in the matter if Council receive more than 10 objections otherwise proposals of this type in lower density areas are usually delegated for decision by the Manningham Planning Division.
Written objections to this development can be lodged by email addressed to Manningham@manningham.vic.gov.au  Full name and address and phone number must be included with your objection OR www.manningham.vic.gov.au/planning-register Or by mail addressed to Manningham Planning Department 699 Doncaster Road, Doncaster 3108.